Aisha's top took a few days to finish as it's from this Japanese pattern book (ISBN 9784834727067, pattern #19) and I was stuck.
Aisha being picky yet modest, decided on this top when she saw the Japanese girl modelling it wears it with a t-shirt inside. She chose a blue polkadot cotton from my stash.
The pattern looks really simple to make but with my no-can-read Japanese limitation, I just could not figure out the strap part. Somehow the way the Japanese designer attached the strap to the bodice and then attach it to the skirt was beyond me. I really respect their innovative work though! The skirt was actually enclosed inside a faced bodice and the strap is supposed to be encased inside the bodice (pening!). So there were a lot of "right side" "wrong side" actions there. In the end I just attached it the way I think will work and gave up on the elastic casings back and just shirred a few rows instead. I think it turned out pretty and unique for Aisha to wear with her favourite jeans.
Hanan's dress was a delight to make! My first pleats and round yoke! So happy...but...(
why is it there's always a but in my projects??)..
do you notice the upside down apples and pears??
Hahaha...I forgot all about the print direction when cutting and since the fabric is precious I just went ahead and sewed. It looks rather quirky and quite charming to me (nak pujuk hati le ni...) and if this was a cake it would be yummy :D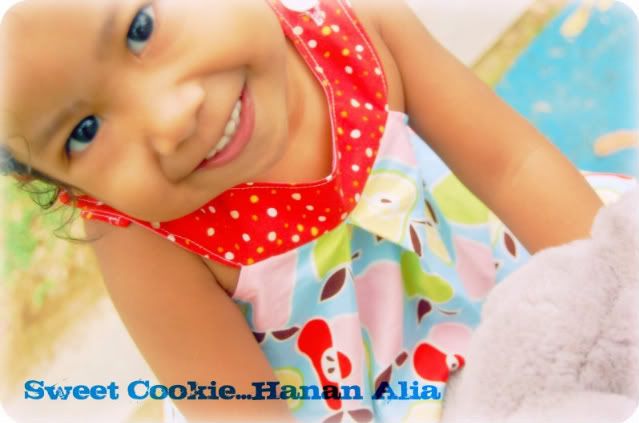 The pattern is again from ManiMina on etsy and fabric is from the wonderful Alexander Henry-Apples & Pears Collection & a red dots cotton for the yoke.
Right now I'm blogging from my parents-in-law place in Kota Bharu. Already missing my sewing machine
J
In Eid celebration mood I'm wishing all .....